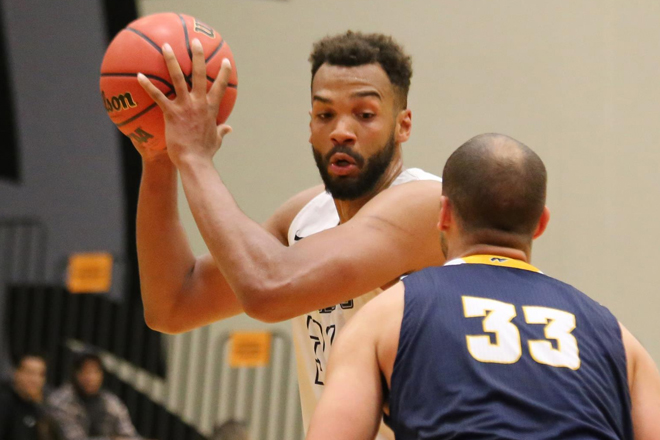 (March 22) -- Thanks to a five-point possession late in the first overtime period, Northern State was able to extend the national final and took control in the second overtime to beat Queens (N.C.) 105-99 Thursday night to advance to Saturday's NCAA Division I championship game. There, it will meet up with top-seeded Ferris State, who held off a late rally by West Texas A&M to earn its first trip to the final with a 85-79 win. Both teams will be playing for their first national title Saturday afternoon.

SEMIFINAL RECAPS:

Ferris State 85, West Texas A&M 79: Ferris State held a 68-51 lead over the Buffaloes with over nine minutes remaining, then held off a furious comeback effort to land in the championship game.

The Bulldogs (37-1) had four players score in double figures and held West Texas A&M to 35.2 percent shooting in the win, as they were led by Drew Cushingberry with 16 points. Cushingberry had a double-double as he also pulled down 10 rebounds, as did Zach Hankins with 13 points and 11 boards.

Ferris State held off the Buffaloes (32-4), who got a 33-point performance from David Chavlovich in defeat, the highest-scoring game by a player at this year's Elite Eight.

Northern State 105, Queens (N.C.) 99, 2OT: Playing in front a partisan sellout crowd at the Sanford Pentagon, Northern State rallied in overtime -- using a five-point possession to extend the game and then winning a thriller in the second extra period to advance ot Saturday's championship game.

Trailing by five with 20 seconds remaining, DJ Pollard was fouled on a three-point shot and made the first two free throws. Pollard missed the third attempt, but Gabe King tapped the rebound out to continue the Wolves' possession and Pollard drilled a three-pointer to knot he score. In the second overtime, Northern (36-3) took control from the outset and built as much as a 10-point lead to earn its date with Ferris State.

Ian Smith led the Wolves with 22 points, while Darin Peterka finished with 20 and Logan Doyle added 18. The Royals (32-4) were paced by Ika Agusi with 27 points, while Jalin Alexander scored 20 and Lewis Diankulu finished with 19.

QUARTERFINAL RECAPS:

West Texas A&M 87, Le Moyne 73: The fourth-seeded Buffaloes trailed 40-38 at the intermission, but shot 53.6 percent in the second half and went 12-of-23 from three-point range overall to advance to Thursday's semifinals. West Texas A&M outscored the Dolphins 49-33 in the second half to pick up the win.

The Buffaloes (32-3) took control early in the second half, using an 18-8 spurt to start the period to take a nine-point lead. West Texas A&M eventually built that lead up to as much as 16 as it had five players in double figures, led by Ryan Quaid with a game-high 25 points. Quaid recorded a double-double as he also pulled down 10 rebounds.

Le Moyne (27-7), making its first-ever appearance at the Elite Eight, was led by Isaiah Eisendorf with 13 points. The Dolphins shot 55.2 percent in the first half, but made only 31.6 percent of their shots after the intermission.

Ferris State 87, Barry 84: After building a pair of double-digit leads, Ferris State was able to hold on to reach the national semifinals for the first time in school history by knocking off Barry in the second quarterfinal contest Tuesday.

The Bulldogs (36-1), who will face West Texas A&M in the semifinals, had a 15-point lead in the first half trimmed to two by halftime, then led by as much as 11 in the second half before the Buccaneers (23-9) starting cutting into the advantage. A three-pointer by Daniel Mortensen drew Barry to within two with just over a minute to play, but the Buccaneers couldn't catch up in the final minute; a jump ball in the final 30 seconds went in favor of Ferris State, which allowed the Bulldogs the opportunity to clinch the game at the free throw line.

Drew Cushingberry led Ferris State with 20 points, while Mortensen and Marko Tomic had 17 apiece for Barry.

Queens (N.C.) 100, California Baptist 94: Queens came away victorious in a furious offensive show -- particularly in the second half -- to advance to the national semifinals for the second time in school history and first time since 2003.

The Royals (32-3) shot 64.5 percent in the second half and 60 percent for the game and needed all of that to overtake the Lancers (28-6), who hit 77.8 percent of their shots in the second half and 56.9 percent on the night. Todd Withers led six Royals in double figures iwth 26 points, while Daniel Carrr added 15 off the bench..

Callifornia Baptist got 21 points from Jordan Heading, 20 from Ty Rowell off the bench and 19 more from Kalidou Diouf in the highest scoring NCAA Division II quarterfinal contest since 2013. The teams combined for 114 points in the second half of play.

Northern State 79, East Stroudsburg 71: Northern State entered the Elite Eight as one of the top shooting teams in the nation and lived up tp that billing in knocking off East Stroudsburg to earn a date with Queens on Thursday.

The Wolves (35-3) shot 57.4 percent as they built as much as an 11-point lead and extended it to as high as 17 in the second half to reach the NCAA Division II semifinals for the first time. The guard combination of Ian Smith (21 points) and D.J. Pollard (19 points), plus a lift off the bench from Logan Doyle (13 points, seven rebouunds) to offset a combined 43 points from ESU's Steve Harris and Jakwan Jones.

Harris led all scorers in the contest and in Tuesday's play with 28 points in the battle of two teams that entered the game sporting 13-game winning streaks.


2017-18 NCAA Division II Conference Tournaments
Conference
Dates
Site*
Champion
Northern Sun Intercollegiate Conference
Feb. 21-27
Sioux Falls, S.D.
Northern State (31-3)
Northeast-10 Conference
Feb. 23-March 3
Syracuse, N.Y.
Le Moyne (24-6)
Southern Intercollegiate Athletic Conference
Feb. 26-March 3
Birmingham, Ala.
Claflin (25-6)
California Collegiate Athletic Association
Feb. 27-March 3
Pomona, Calif.
UC San Diego (21-10)
Central Intercollegiate Athletic Association
Feb. 27-March 3
Charlotte, N.C.
Virginia Union (18-14)
Rocky Mountain Athletic Conference
Feb. 27-March 3
Durango, Colo.
Regis (26-5)
Great Midwest Athletic Conference
March 1-3
Findlay, Ohio
Ohio Dominican (20-10)
Great Northwest Athletic Conference
March 1-3
Anchorage, Alaska
Western Oregon (29-1)
Pacific West Conference
March 1-3
Riverside, Calif.
Dixie State (23-6)
Pennsylvania State Athletic Conference
Feb. 26-March 4
East Stroudsburg, Pa.
East Stroudsburg (24-5)
Central Atlantic Collegiate Conference
Feb. 27-March 4
Philadelphia, Pa.
Jefferson (21-13)
Conference Carolinas
Feb. 27-March 4
Banner Elk, N.C.
Lees-McRae (23-8)
Gulf South Conference
Feb. 27-March 4
Birmingham, Ala.
West Florida (28-3)
Mid-America Intercollegiate Athletics Association
Feb. 27-March 4
Kansas City, Mo.
Northwest Missouri State (27-3)
East Coast Conference
Feb. 28-March 4
Rochester, N.Y.
St, Thomas Aquinas (26-6)
Great Lakes Intercollegiate Athletic Conference
Feb. 28-March 4
Big Rapids, Mich.
Ferris State (32-1)
Mountain East Conference
Feb. 28-March 4
Charleston, W.Va.
Wheeling Jesuit (26-5)
Peach Belt Conference
Feb. 28-March 4
Morrow, Ga.
UNC Pembroke (26-5)
South Atlantic Conference
Feb. 28-March 4
Greenville, S.C.
Lincoln Memorial (30-1)
Sunshine State Conference
Feb. 28-March 4
Lakeland, Fla.
Eckerd (24-6)
Great American Conference
March 1-4
Bartlesville, Okla.
Southern Nazarene (27-2)
Heartland Conference
March 1-4
Tulsa, Okla.
Dallas Baptist (26-5)
Great Lakes Valley Conference
March 2-4
Edwardsville, Ill.
Bellarmine (28-2)
Lone Star Conference
March 2-4
Frisco, Texas
West Texas A&M (28-3)
*Site of championship game