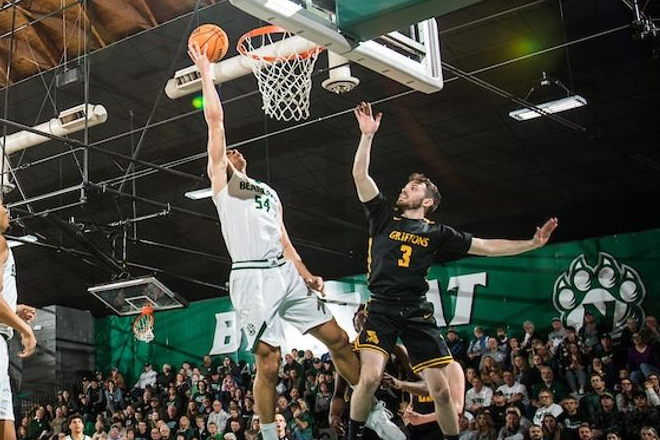 (March 30) -- For the second time in three years, Northwest Missouri State is taking home the national championship and is doing so in historic fashion, becoming the first team in a decade to complete a perfect run as national champions.

The Bearcats broke free from Point Loma midway through the second half, extending a three-point lead to 10 over a span of four minutes. Joey Witthus' 35-foot three-pointer that beat the shot clock gave Northwest a 56-46 lead and the Bearcats were able to hold off the Sea Lions' late rally effort to win the championships.

Witthus had 24 points to lead Northwest to its 38th straight win and was joined on the all-tournament team by teammate Trevor Hudgins, who was named as the tournament's most outstanding player. Point Loma's Daulton Hommes led all scorers with 26 points and was also an all-tournament team selection along with Southern Indiana's Alex Stein and Saint Anselm's Tim Guers.

SEMIFINAL RECAPS:

Northwest Missouri State 76, Saint Anselm 53
Leading by two at the half, top-ranked Northwest Missouri State shot 62.1 percent in the second half and outscored Saint Anselm 45-24 to reach the national championship game for the second time in three seasons.

The Bearcats controlled matters down low, scoring 54 points in the paint and with their defense, as they outscored the Hawks 23-2 off turnovers and held Saint Anselm to 38.6 percent shooting. Trevor Hudgins had 27 points to lead four Bearcats in double figures in the scoring column.

Tim Guers had 23 points and Chris Paul added 21 for Saint Anselm, who finished the season at 26-6.

Point Loma 81, Southern Indiana 71
Point Loma scored the first 10 points of the game and never reliinquished the lead as it advanced to the national championship game for the first time as a member of NCAA Division II.

Southern Indiana closed that lead down to one by halftime, but the Screaming Eagles could never get past the Sea Lions in the second half, as Point Loma shot 52 percent from the field and got 20 points from NABC player of the year Daulton Hommes to win for the 11th straight time.

Alex Stein led Southern Indiana with a game-high 22 points and closed his career as the school's all-time leading scorer with 2,219 points.

QUARTERFINAL RECAPS:

Saint Anselm 91, Nova Southeastern 81
The Hawks used a hot hand from long range to earn a win in their first Elite Eight appearance since 2000, hitting 16 three-point baskets to knock off Nova Southeastern to open the day.

Tim Guers hit six of those three-pointers and scored 31 points to lead the Hawks, who led by seven at halftime and never relinqushed that advantage to give the East region its first win at the Elite Eight since 2012. Guers got scoring help from Cody Ball and Chris Paul, who added 16 points apiece in the victory.

Nova Southeastern also got 31 points from Mark Matthews in the Sharks' first appearance in a national quarterfinal contest, but made only seven-of-27 from beyond the arc. The game was the first with 30-point scorers on each side since the 2016 matchup between Lincoln Memorial and West Liberty.

Northwest Missouri State 55, Mercyhurst 51
The top-ranked and undefeated Bearcats came away with a victory in a battle of two of the top three defensive teams in NCAA Division II, as Northwest held the Lakers to 39 percent shooting in the contest.

Northwest led for much of the contest, but had a tough time shaking the Lakers before coming away with its 36th straight win. Trevor Hudgins led the Bearcats with 20 points in a game where they matched the lowest point total by a winning team in the shot clock era. The Bearcats will face Saint Anselm in Thursday's first semifinal contest.

Mercyhurst was led by Jason Massey with 17 points, but no other Laker scored more than eight in the contest.

Southern Indiana 94, West Texas A&M 84
The Screaming Eagles got off to a hot start and held West Texas A&M -- a team that has averaged 10.2 three-point baskets per game -- to just five on 25 attempts as they advanced to the national semifinals before a record crowd for a NCAA Elite Eight quarterfinal contest of 7,330.

Alex Stein scored seven of USI's first nine points of the contest and finished with a game-high 31 points; he has scored 64 points in the Screaming Eagles' last two games to send his team to the semifinals. He was among five USI players in double figures which included a 14-point effort from Josh Price and 12 more from Kobe Caldwell.

Qua Grant had 27 points to lead West Texas A&M, who had its winning streak snapped at 19 games.

Point Loma 87, Queens (N.C.) 74
Point Loma rode a pair of 22-point performances, one from Daulton Hommes and another from Preston Beverly, to reach its first national semifinal as it shot 54 percent from the field to down Queens (N.C.).

The Sea Lions led by 11 at halftime, thanks in part to a 13-0 run midway through the opening half after the game was tied at 14 and will now face Southern Indiana in Thursday's second semifinal contest at the Ford Center.

Queens (N.C.) got a 27-point, 11-rebound performance from Shaun Willett as it ended its season at 31-5.

2018-19 NCAA Division II Conference Tournaments
Conference
Dates
Site*
Champion
Central Intercollegiate Athletic Association
Feb. 26-March 2
Charlotte, N.C.
Virginia State
Southern Intercollegiate Athletic Conference
Feb. 25-March 2
Birmingham, Ala.
Miles
Northern Sun Intercollegiate Conference
Feb. 27-March 5
Sioux Falls, S.D.
Northern State
Northeast-10 Conference
March 1-9
New Haven, Conn.
Merrimack
California Collegiate Athletic Association
March 5-9
Hayward, Calif.
UC San Diego
Great Midwest Athletic Conference
March 5-9
Findlay, Ohio
Walsh
Rocky Mountain Athletic Conference
March 5-9
Golden, Colo.
New Mexico Highlands
Great Northwest Athletic Conference
March 7-9
Bellingham, Wash.
Seattle Pacific
Pacific West Conference
March 7-9
San Rafael, Calif.
Point Loma
Pennsylvania State Athletic Conference
March 4-10
Indiana, Pa.
Indiana (Pa.)
Central Atlantic Collegiate Conference
March 5-10
Caldwell, N.J.
Dominican (N.Y.)
Conference Carolinas
March 5-10
Franklin Springs, Ga.
Emmanuel
Great Lakes Intercollegiate Athletic Conference
March 5-10
Grand Rapids, Mich.
Grand Valley State
Gulf South Conference
March 5-10
Birmingham, Ala.
Delta State
East Coast Conference
March 6-10
Bridgeport, Conn.
Molloy
Mid-America Intercollegiate Athletics Association
March 6-10
Kansas City, Mo.
Northwest Missouri State
Mountain East Conference
March 6-10
Wheeling, W.Va.
Notre Dame (Ohio)
Peach Belt Conference
March 6-10
Augusta, Ga.
Augusta
South Atlantic Conference
March 6-10
Greenville, S.C.
Catawba
Sunshine State Conference
March 6-10
Fort Lauderdale, Fla.
Florida Southern
Great American Conference
March 7-10
Bartlesville, Okla.
Southern Nazarene
Heartland Conference
March 7-10
Tulsa, Okla.
St. Edward's
Great Lakes Valley Conference
March 7-10
Edwardsville, Ill.
Bellarmine
Lone Star Conference
March 7-10
Frisco, Texas
West Texas A&M
*Site of championship game